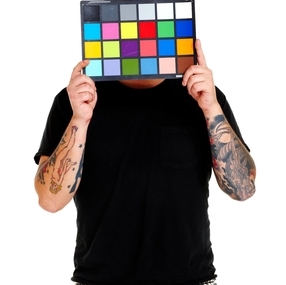 USA, New York City
Jahrgang:1985
Assistent seit:2007
Führerschein:kein Führerschein
Eigenes Auto:kein eigenes Auto verfügbar
Reisepass:vorhanden
Sprachen:Englisch
Fotoassistent, Digital Operator
Ryan Cummings
People, Portrait, Location Scout, Mode, Beauty, Reportage, Produktions Assi, Stilllife, Food, Landscape
Know How:
Digital Studio Photography
- Working closely with art directors and production to create quality
online content fastly, efficiently and most importantly, on time
- Lighting diagrams, retouching and file management. Building capture stations
on location and in studio environments
- Equipment lists and estimates
- Creating the most efficient and cost effective work flow given our resources
- Coordination of future improvements and predicting future increases in workflow
while building sustainable systems to accomodate.
- Set up and break down of still life and fashion production.
- Color management and proofing for web and
print.

Publishing
- Tasks include printing fine art quality prints (ink jet).
- Working closely with factories and print proofs to ensure a beautiful final product.
- Editing and organizing large portfolios (10,000+ images).

Fine Art
- Archiving large databases, file management (FTP).
- Fine Art archival printing.
- Working closely with galleries and art buyers to facilitate showings.
- Working on set, building and breaking down studio equipment.
- Organizing and booking talent.

Software:
Photo: Capture one 7, Photoshop CC+, Lightroom 3, Bridge, FTP, X-Rite.
Admin: Microsoft Word, Excel, Powerpoint.

Hardware:
Camera: Cannon, Nikon, Hasselbald (H2D), Sinar, Red Cinema, PhaseOne.
Lighting: Profoto, Broncolor, briese, KinoFlo, Arri.
Referenzen als Assistent / Werdegang
I have an intense passion for the fine art and commercial aspect of the industry, intimate knowledge of the commercial photography world and know the steps to get an image from on set to on line. I have worked under some extremely talented and fortunately successful photographers/ producers. I have had the ability to work closely with them from conceptualization to the projects end.

This has given me an excellent understanding of how the commercial photography world operates and how to survive in that environment.

At the same time, my experience working at Splashlight studios and other large commercial photo studios has shown me the E-commerce focused side of the industry. Commercial photography is deadline driven. It requires a completely different workflow than editorial. I have been able to successfully and quickly adapt to.

My formal education in classic photography technique and digital photography from the School of Visual Arts combined with my experience working in both the fine art and commercial photography world give me a unique skill set to take the best of both worlds and apply it to any current project. I understand that both the fine art and commercial worlds are different, but there are aspects of both that I believe can benefit any client or elevate any project.

I am extremely organized, have excellent people skills and truly have a passion for what I do. I am an extremely fast learner and can adapt and excel immediately. I always give 100% with anything I do, be it work or personal life.

Thank you for your time and I hope to hear from you in the near future.

Best Regards,
Ryan Cummings


Portfolio
Fotoassi gesucht? Mail an alle:Biete einen Assi- oder Fotojob allen eingetragenen Fotoassistenten an!
Einfach, schnell und kostenlos:

Schnellsuche:Alle Fotoassistenten aus einer Stadt - ohne Suche mit einem Klick
Blog:
Themen rund ums Assistieren und die Fotografie

Uwe Düttmann / Hamburg / sucht einen festen Fotoassistenten
Uwe Düttmann sucht einen neuen Assistenten (m/w). Folgendes solltest du mitbringen: Wohnort: Hamburg Führerschein: Klasse B Gültiger Pass […]

Welche Jobangebote wurden in den letzten Wochen über die "mail an alle..
Eigentlich hatten wir hier im Blog die nachträgliche Veröffentlichung von den versendeten Jobangeboten eingestellt. In den letzten […]

Emir Haveric sucht einen festen Assistenten – Job ist vergeben
Emir Haveric sucht ab sofort einen neuen festen Assistenten (m/w) für zwei Jahre. Du hast Erfahrung als […]

Harry Weber sucht einen festen Praktikanten / Fotoassistenten in Berlin
Harry Weber sucht einen festen Praktikanten / Assistenten in Berlin Ich suche einen fest/freien Mitarbeiter (m/w) ab […]
Noch bis 1.4. mitmachen – FOAM Talent Wettbewerb 2013
Foam kennen sicherlich viele als ein Magazin aus dem Zeitschriftenhandel. Es erscheint vierteljährlich und zeigt in jeder […]

Ein Essen für 30.000€ – die "schönsten" Versicherungsschäden von ..
Wir haben bei Andreas Matthiessen von kameraversicherung.de nachgefragt, welche ungewöhnlichen Schäden in letzter Zeit passiert sind. Nach dem Schaden […]

Thomas Ruff im Interview
Thomas Ruff, einst Schüler von Bernd und Hilla Becher, gibt Einblicke in seine Anfänge als "Bildermacher", wie […]