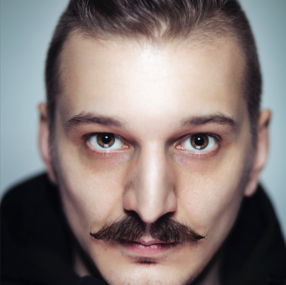 Großbritannien, London
Jahrgang:1988
Assistent seit:2012
Führerschein:kein Führerschein
Eigenes Auto:kein eigenes Auto verfügbar
Reisepass:vorhanden
Sprachen:Englisch, Italienisch
Fotoassistent
ivano pagnussat
People, Portrait, Location Scout, Mode, Beauty
Know How:
canon 5D mkII &prime lenses

-Adjust apertures, shutter speeds, and camera focus based on a combination of factors
such as lighting, field depth, subject motion, film type, and film speed.
-Create artificial light, using flashes and reflectors.
-Determine desired images and picture composition, selecting and adjusting subjects,
equipment, and lighting to achieve desired effects.
-Select and assemble equipment and required background properties,
according to subjects, materials, and conditions.
-Test equipment prior to use to ensure that it
is in good working order.
-Review sets of photographs to select the best work.
-Determine project goals, locations, and equipment needs by studying assignments
and consulting with clients or advertising staff.
-Estimate or measure light levels, distances, and numbers of exposures needed,
using measuring devices and formulas.
-Set up, mount, or install photographic equipment and cameras.
-Engage in research to develop new photographic procedures and materials.

PROGRAMS: lightroom, photoshop, premiere, after effects, speedgrade, madmapper, vdmx,
resolume arena, quartz composer, c4d.
Referenzen als Assistent / Werdegang
-FREELANCE PHOTOGRAPHER since 2010
-Model photobooks
-commercial headshots
-2 personal exhibition
-Photographer and reporter for a local

italian newspaper"CORRIERE DELLA SERA"
Lancia Agency
-PARTIES AND MUSICAL EVENTS PHOTOGRAPHER
-PARTIES AND MUSICAL EVENTS VIDEOGRAPHER
-CAMERA OPERATOR FOR A SERIES OF SHORT FILMS
-VISUAL PROJECTIONS AND VISUAL MAPPING
FOR MUSICAL EVENTS
-VFX EDTITOR
Portfolio
Fotoassi gesucht? Mail an alle:Biete einen Assi- oder Fotojob allen eingetragenen Fotoassistenten an!
Einfach, schnell und kostenlos:

Schnellsuche:Alle Fotoassistenten aus einer Stadt - ohne Suche mit einem Klick
Blog:
Themen rund ums Assistieren und die Fotografie

Wie viele Auftraggeber hattest Du 2013? Ein erstes..
Seit einem Monat ist unsere Umfrage unter allen Fotoassistenten online […]

Die große Jahresumfrage unter den Fotoassistenten..
Auch in diesem Jahr gibt es wieder die große Umfrage […]

Wie schnell zahlen Fotografen normalerweise die Re..
Auch in der diesjährigen Umfrage hatten wir gefragt, wie lange […]

DAVID MAUPILÉ sucht ab sofort einen festen Assist..
Voraussetzung: Du wohnst bereits in Hamburg. Du hast einen Führerschein, […]

Fester Praktikant / Fotoassistent in Berlin gesuch..
Thomas Kierok sucht festen Praktikanten/ Fotoassistenten (m/w) in Berlin. Gewünschte […]
Tests und kostenloses arbeiten – bringt das etwas?
Es wird wohl kaum einen Fotoassistenten geben, der noch nie […]

Günstige Panoramakamera im Eigenbau? Sicher geht ..
Was macht man, wenn man ein paar Analogkameras, einen Mülleimer […]