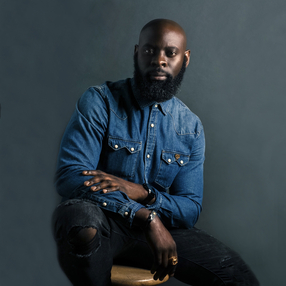 USA, New York City
Jahrgang:1983
Assistent seit:2014
Führerschein:PKW
Eigenes Auto:kein eigenes Auto verfügbar
Reisepass:vorhanden
Sprachen:Englisch
Fotoassistent
Arthur Hylton
People, Portrait, Architektur, Mode, Beauty, Produktions Assi
Know How:
I am a Visual artist with 8 years of experience, specializing in videography, digital and film photography, fashion, portraits, and still-life photography. I am proficient in capturing high quality images and organizing materials for photoshoots, while exhibiting professionalism at all times.
A freelancer who still loves working with other photographers on interesting projects.

Gear:
* Main | Canon 5D Mark III DSLR & Prime Lenses
* Backup | Canon 6D Mark II
* Travel Flashpoint Speedlights
* Elinchrome Studio Strobes

Website | hyltonimages.com
IG | @hyltonimages
Referenzen als Assistent / Werdegang
* Sports & Arts in Schools Foundation | Brooklyn, New York         
Fine Art Photography Teacher | PS/IS 178 St. Clair McKelway

* United Photo Industries | Dumbo, NY
Programming Intern

* Arthur Hylton Studios | East Orange, NJ
Owner/ Freelance Photographer
-Owns and operates Arthur Hylton Studios In-home studio space
-Capture, process, edit and retouch images using Adobe Photo programs
-Consultant to brand owners on themes for magazines, visual campaigns, photo shoot, and mood boards
-Provide photography services to clients for individual, family, graduation portraits, class reunions, weddings, and parties

* Who Wore That Magazine | New York, NY
Lead Photographer for Who Wore That Magazine
-Prepared shoot site with equipment and tools as needed for particular projects
-Captured, processed, edited the photographs and finally cataloged the photographs for printing
-Undertook contracts for photography assignments and coordinated with the creative director and the client
-Liaised with the organizers or models that are to be photographed and collaborated on required theme

* Photo Assistant | New York, NY
Assistant Photographer for Who Wore That Magazine
-Assists lead photographers in capturing and processing photographs
-Managed work sites in terms of equipment set up and other logistics
-Food Stylist/ Photographer Assistant for the D'Agostino Marketplace
-Food Stylist/ Photographer Assistant for the Gourmet Garage Marketplace
-Food Stylist/ Photographer Assistant for the "Eataly" Marketplace
-Contracted Food Stylist/ Photographer Assistant for Amazon.com

* U.S. Navy | Patuxent River, MD
Public Relations Officer/ Military Squadron Liaison
-Military Squadron Digital Media Custodian who captured all military squadron events and award ceremonies for yearly military scrapbooks 
-Captured photos of military aircraft and mechanical support equipment
-Developed photos and created framed collages as gifts for V.I.P military members

* Photographic Skills
-Proficient in PC and Macintosh Operating Systems, Microsoft Office, Excel, Outlook, PowerPoint, Adobe Photoshop & Adobe Photoshop Lightroom.
-Proficient in film, digital and black and white photography well as HD video recording
-Excellent knowledge of flash photography equipment
-Excellent interpersonal skills and customer service skills
-Exceptional Knowledge of shooting in natural light
-Multi-tasker and highly organized
-Experienced with digital computer-aided photographic software
-Efficient in the task of developing and editing photographs creatively
-Keen eye for texture, space, design, and color balance
-Experience capturing candid & memorable moments for wedding photos
-Skilled at communicating with clients and advising them on poses and gestures that are visually pleasing

EDUCATION
Graduate of The New York Film Academy - One Year Photography Program.
Portfolio
Fotoassi gesucht? Mail an alle:Biete einen Assi- oder Fotojob allen eingetragenen Fotoassistenten an!
Einfach, schnell und kostenlos:

Schnellsuche:Alle Fotoassistenten aus einer Stadt - ohne Suche mit einem Klick
Blog:Themen rund ums Assistieren und die Fotografie
"Ausfallhonorar – da gibt's doch..
Gelegentlich kommt es vor, dass ein Fotojob in letzter Minute […]

Welche Jobs für Fotoassistenten wurden im März, ..
Wer als Fotograf nicht selber in der Datenbank nach einem Fotoassistenten […]
Fotoassistenz gesucht? Die Angebote über die R..
Neben der Möglichkeit, einen Assistenten direkt zu kontaktieren, bieten wir […]

Fotoassistent gesucht / Nördlingen / langfristig
Wir sind ein junges Team aus Fotografen und wir betreiben […]

Zuckerfabrik Fotodesign sucht Praktikanten in Stut..
Das Studio Zuckerfabrik Fotodesign sucht einen Praktikanten für den Zeitraum […]
"Ach was, da passiert schon nix" – Die "sc..
Viele Fotoassistenten und junge Fotografen arbeiten immer noch ohne Berufshaftpflicht […]

Christoph Siegert sucht Fotoassistenten (m/w) in H..
Wir suchen ein Organisationstalent w/m für tägliche Studioaufgaben, Foto Shootings […]