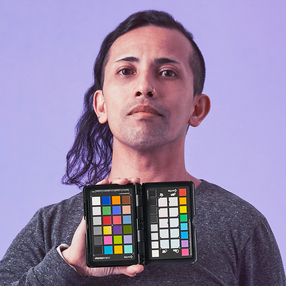 USA, Los Angeles
Jahrgang:1984
Assistent seit:2011
Führerschein:PKW
Eigenes Auto:eigenes Auto verfügbar
Reisepass:nicht vorhanden
Sprachen:Englisch, Spanisch
Fotoassistent, Digital Operator
Jonathan Labez
People, Portrait, Architektur, Mode, Beauty, Produktions Assi, Stilllife, Food, Transportation
Know How:
I learned my chops under Milk Studios and went on to work high end celebrity shoots for Vijat Mohindra. I've taken Digital Transitions Capture One Masters Program and did training under Los Angeles County Museum of Art's Digital Management & Photographic department.


I've built computers since I was 5, I'm in my 30s now, which means I'm insanely
comfortable around tech of any kind. I'm oftentimes the tech other creatives and photographers reach out to to problem solve their issues or figure out lighting.

Gear available for shoots includes:
Maxed out 1tb/16gb 2015 Macbook Pro
24" NEC PA242 Monitor
20" Apple Cinema Display
Magliner
Profoto 7B
Profoto Acuteb 600
Acute Ring flash/soft dish
Additional modifiers such as Mola Rayo, Magnum, Westcott 7ft parabolic umbrella/sock
C Stands
Referenzen als Assistent / Werdegang
I've worked shoots on brands the likes of:

TNT Network, Elle Magazine, L'Officiel, Nike, Yahoo! Shine, VSCO, Complex Magazine, Interscope Records, Hautelook/Nordstroms, Art Hearts, The Bond Agency, Maxim France, GQ Mexico, Persona Cosmetics, KKW Cosmetics, Gwen Stefani, House of Harlow by Nichole Richie, Stories by Kelly Osbourne, Nicki Minaj, Paris Hilton, Creative Recreation, Koolaburra footwear, Off Corse Clothing

In my own portfolio, I've contributed countless photos to Art/Culture/Skate brands. I was honored for my accomplishments by ONE Magazine as being 'Photographer of the Year' in 2014.

I recently wrapped a year long workshop in the making, as Event Coordinator Manager and Digital Tech for a photo workshop held by Celebrity Photographer John Russo and Glamour photographer Brian B Hayes.

In parallel with photography, I have 10 years experience in public relations, where I was fortunate to enough to get a unique perspective on an creating and placing an image, start to finish. From working directly with talent, clients, and photographers, to art direction on set, and placement in publications. It's helped give me a tremendous insight into how I can best be a second pair of eyes on set.
Milk Studios, Digital Operator, 0-6 Monate
Vijat Mohindra, Digital Operator, mehr als 1 Jahr
Derek Wooden, Digital Operator, 1-5 Jobs
Dan Busta, Fotoassistent, 1-5 Jobs
Mehmet Erzincan, Digital Operator, 1-5 Jobs
Liz Collins, Fotoassistent, 1-5 Jobs
Don Diaz, Fotoassistent, 1-5 Jobs
Wes Klain, Digital Operator, mehr als 1 Jahr
Benjamin Von Wong, Fotoassistent, 1-5 Jobs
Bond Agency, Digital Operator, mehr als 1 Jahr
Shandrew PR, Produktions Assistent, mehr als 1 Jahr
Erick Rodriguez, Digital Operator, mehr als 1 Jahr
Emari Traffie, Digital Operator, mehr als 1 Jahr
Beth Sternbaum, Fotoassistent, 1-5 Jobs
Jeff Linett, Fotoassistent, 1-5 Jobs
Brian B Hayes, Digital Operator, 1-5 Jobs
Rosario Zannanti, Digital Operator, 1-5 Jobs
Mason Robinson, Produktions Assistent, 1-5 Jobs
Bukunmi Grace, Fotoassistent, 1-5 Jobs
Laretta Houston, Digital Operator, 1-5 Jobs

Portfolio
Fotoassi gesucht? Mail an alle:Biete einen Assi- oder Fotojob allen eingetragenen Fotoassistenten an!
Einfach, schnell und kostenlos:

Schnellsuche:Alle Fotoassistenten aus einer Stadt - ohne Suche mit einem Klick
Blog:Themen rund ums Assistieren und die Fotografie

Die Ergebnisse der Fotoassistenten Jahresumfrage i..
Nachdem im letzten Jahr die Photo Presse einen großen Bericht […]

Die hungrige Ziege – die "schönsten" Ve..
Wir haben bei Andreas Matthiessen von kameraversicherung.de nachgefragt, welche ungewöhnlichen Schäden in […]

Harry Weber sucht Unterstützung in Berlin (Job is..
Ich suche einen freien Mitarbeiter (m/w) ab sofort (Job ist […]

Studio Ben Fuchs sucht einen Fotoassistenten / Pra..
Studio Ben Fuchs sucht einen neuen Assistenten/Praktikanten (Job ist vergeben) […]

EMIR HAVERIC – fester Fotoassistent gesucht ..
Emir Haveric sucht ab Ende Oktober/ Anfang November einen neuen […]

Alle "mail an alle" Fotoassijobs vom O..
Freie Fotojobs können auf Fotoassistent.de einfach über den Verteiler an alle […]

Im Mai haben Fotografen folgende Jobs über die ..
Auf Fotoassistent.de gibt es die "mail an alle" Funktion, mit der Fotografen schnell und […]