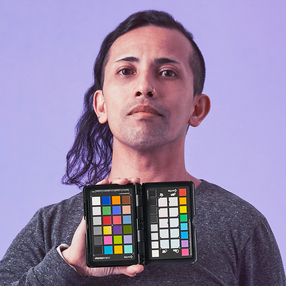 USA, Los Angeles
Jahrgang:1984
Assistent seit:2011
Führerschein:PKW
Eigenes Auto:eigenes Auto verfügbar
Reisepass:vorhanden
Sprachen:Englisch, Spanisch
Fotoassistent, Digital Operator
Jonathan Labez
People, Portrait, Architektur, Mode, Beauty, Produktions Assi, Stilllife, Food, Transportation
Know How:
The core of my training comes from Milk Studios LA, working under their digital department. I went on to spend a year under Celebrity and Fashion photographer Vijat Mohindra as his in house digitech/first assistant. I have taken Digital Transitions Capture One Masters Program. I've previously worked for Los Angeles County Museum of Art's Photographic department and as Digital Manager at a Public Relations agency that repped models/photographers.

I'm oftentimes the person other photographers/creatives reach out to about problem solve their technical issues and answer questions on lighting. Oftentimes at odd hours. It isn't unusual to get
texts at 2 AM from someone on the opposite coast asking how to trouble shoot a hard drive or a call at 10 PM about deconstructing lighting for a shoot I'm not even on.

Grip and gear available for shoots includes:
Maxed out 15" Macbook Pro
24" NEC Monitor
20" Apple Cinema Display
Magliner with bop and bottom shelves
Profoto Lighting (7B, two Acuteb 600s, Ring Flash w/ widesoft reflector)
Canon 580 EX Speedlite
Mola Rayo, Mola Sollo w/ opal glas
Profoto Magnum
Westcott 7ft para umbrella/sock
Wescott Med softbox,
3' octobank
Umbrellas
Gels
C Stands
Light stands
Mini boom
Vagabond mini
Pocketwizard ii & iiis

Grip list upon request.
Referenzen als Assistent / Werdegang
In my personal photography, I've worked 10 years shooting for skate magazines and brands. I've had the chance to photograph my child heroes, have ONE Magazine honored me as 'Photographer of the Year for 2014', and most recently became an Associate Photo Editor/Staff Photographer for Be-Mag.com.
Milk Studios, Digital Operator, 0-6 Monate
Vijat Mohindra, Digital Operator, mehr als 1 Jahr
Dan Busta, Fotoassistent, 1-5 Jobs
Liz Collins, Fotoassistent, 1-5 Jobs
Wes Klain, Digital Operator, mehr als 1 Jahr
Benjamin Von Wong, Fotoassistent, 1-5 Jobs
Bond Agency, Digital Operator, mehr als 1 Jahr
Shandrew PR, Produktions Assistent, mehr als 1 Jahr
Emari Traffie, Digital Operator, mehr als 1 Jahr
Beth Sternbaum, Fotoassistent, 1-5 Jobs
Jeff Linett, Fotoassistent, 1-5 Jobs
Bukunmi Grace, Fotoassistent, 1-5 Jobs
Jean Marie Biele, Fotoassistent, mehr als 5 Jobs
John Russo, Produktions Assistent, 0-6 Monate
Brian Ingram, Fotoassistent, 1-5 Jobs
Djeneba Aduayom, Digital Operator, 1-5 Jobs

Portfolio
Fotoassi gesucht? Mail an alle:Biete einen Assi- oder Fotojob allen eingetragenen Fotoassistenten an!
Einfach, schnell und kostenlos:

Schnellsuche:Alle Fotoassistenten aus einer Stadt - ohne Suche mit einem Klick
Blog:Themen rund ums Assistieren und die Fotografie

Benno Kraehahn – fester Fotoassistent in Ber..
(Job ist vergeben) Ich suche einen festen Assistenten ab Januar […]
"Ausfallhonorar – da gibt's doch..
Gelegentlich kommt es vor, dass ein Fotojob in letzter Minute […]

Benno Kraehahn sucht Fotoassistent/in für 2 Jahre..
Fester Fotoassistent für zwei Jahre im Bereich Portrait in Berlin von […]

Fester Fotoassistent in Hamburg gesucht / Studio C..
Wir suchen ein Organisationstalent w/m für tägliche Studioaufgaben, Foto Shootings […]

Fester Fotoassistent (m/w) in Berlin ab Februar / ..
Ich suche einen neuen festen Assistenten (m/w) in Berlin ab […]
Fotoassistent gesucht über die "Mail an all..
Neben der Möglichkeit, einen Fotoassi direkt zu kontaktieren, bieten wir […]

Michael Schnabel sucht Assistent/Studiomanager/-in..
Da mein fester Assistent weiterzieht, suche ich einen Nachfolger/-in. Wichtig […]