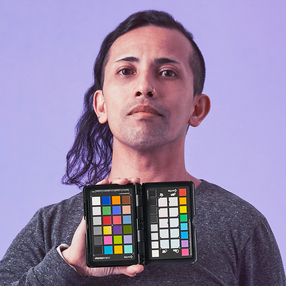 USA, Los Angeles
Jahrgang:1984
Assistent seit:2011
Führerschein:PKW
Eigenes Auto:eigenes Auto verfügbar
Reisepass:vorhanden
Sprachen:Englisch, Spanisch
Fotoassistent, Digital Operator
Jonathan Labez
People, Portrait, Architektur, Mode, Beauty, Produktions Assi, Stilllife, Food, Transportation
Know How:
I have been assisting since 2011 and shooting photos since 2006. I worked under Milk Studios Digital Techs and coordinators in Los Angeles. I spent a year under celebrity photographer Vijat Mohindra as his personal digital tech, working on shoots for names like Creative Recreation, Miley Cyrus, Paris Hilton, Yahoo! Shine, Gwen Stefani, and B Aukerland (Madonna's Stylist). I spent another year working lighting and digitech under LA local Wes Klain. I studied Digital Archiving under supervision of the Los Angeles County Museum of Art's Photographic department / Digital Manager.

When it comes to lighting and technical questions, I'm at my best. Deconstructing light setups, weird software issues, a hardware or pack malfunction, broken drives. There's a reason my friends call me
at weird hours and ask me to facetime them through their issues.

I work almost exclusively with Profoto lights and Capture One on shoots. I'm well versed in Adobe Photoshop and Lightroom, having been a beta tester for Lightroom.

Because of my experience working with editorial staff through public relations, I often work well with art directors and producers on shoots. If I can help relay their thoughts and concerns while passing the notes onto photographers, I find it helps smooth out shoots. My job is to be your second eyes on a set and make sure images look their best.

Gear available for shoots includes:

Fully loaded Macbook Pro
24" NEC Monitor
27" Apple Thunderbolt Display
Magliner with shelf
Profoto lighting
Mola Rayo
Mola Setti (silver)
Profoto Ring Flash w/ widesoft reflector
Referenzen als Assistent / Werdegang
I co-running Be-mag, the oldest skate magazine, working as Photo Editor and Art Director. I started out contributing and moved up to associate editor. I was honored as 'Photographer of the Year' by ONE Magazine for my work contributing to skate culture in 2014. I've worked alongside my childhood heroes and been fortunate to work with nearly everyone I've wanted to meet growing up. I spent over 10 years in public relations, working with talent and magazine editors to get clients published. My clients were featured in the likes of Maxim, FHM, GQ, Esquire, L'Officiel, and Glassbook. In that time I worked on over 100+ campaigns. I hold a Bachelors in Literature from the University of California, Santa Cruz.
Milk Studios, Digital Operator, 0-6 Monate
Vijat Mohindra, Digital Operator, mehr als 1 Jahr
Dan Busta, Fotoassistent, 1-5 Jobs
Liz Collins, Fotoassistent, 1-5 Jobs
Wes Klain, Digital Operator, mehr als 1 Jahr
Benjamin Von Wong, Fotoassistent, 1-5 Jobs
Bond Agency, Digital Operator, mehr als 1 Jahr
Emari Traffie, Digital Operator, mehr als 1 Jahr
Beth Sternbaum, Digital Operator, mehr als 1 Jahr
Jeff Linett, Fotoassistent, 1-5 Jobs
Bukunmi Grace, Fotoassistent, mehr als 1 Jahr
Jean Marie Biele, Fotoassistent, mehr als 1 Jahr
John Russo, Produktions Assistent, 0-6 Monate
Brian Ingram, Fotoassistent, 1-5 Jobs
Djeneba Aduayom, Digital Operator, mehr als 1 Jahr
Taryn Kent, Digital Operator, mehr als 1 Jahr

Portfolio
Fotoassi gesucht? Mail an alle:Biete einen Assi- oder Fotojob allen eingetragenen Fotoassistenten an!
Einfach, schnell und kostenlos:

Schnellsuche:Alle Fotoassistenten aus einer Stadt - ohne Suche mit einem Klick
Blog:Themen rund ums Assistieren und die Fotografie

Brauche ich als Fotoassistent eine Versicherung?
Oft hört man von anderen Fotoassistenten zum Thema Versicherung: "Das […]

Super Idee: throwable panoramic ball camera
Gute Neuigkeiten aus Berlin: Ein Ball, 36 Linsen und ein […]
"Geld gibt's erst wenn der Kunde gezah..
Ja natürlich, das ist klar aus der Sicht des Fotografen.. […]

Fester Assistent / Pratikant gesucht / Olaf Heine ..
Das Studio Olaf Heine sucht einen festen Assistenten/Praktikanten (m/w). (Der […]
Wie lange habe ich eigentlich Zeit, um eine Rechnu..
Wo bleibt eigentlich das Geld von diesem Job im letzten […]

Fotoassistent in Düsseldorf gesucht, langfristig ..
Hallo, als Hochzeitsfotografin in Düsseldorf suche ich noch für diese […]

Was ist wichtig, um als Fotoassistent gebucht zu w..
Welche Faktoren sind wichtig, um als Fotoassistent gebucht zu werden? […]