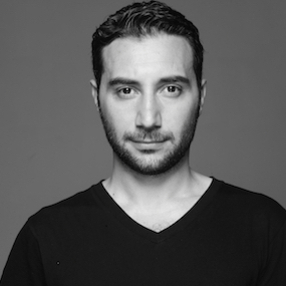 USA, New York City
Assistent seit:2005
Führerschein:PKW
Eigenes Auto:kein eigenes Auto verfügbar
Reisepass:vorhanden
Sprachen:Englisch, Türkisch
Telefon: +1 (646) 301-8770
Fotoassistent, Digital Operator
Berk Dogan
People, Portrait, Architektur, Mode, Beauty, Stilllife, Food, Landscape
Know How:
Berk Dogan Professional Digital Capture Technician(Digital Tech) & Photo Assistant, owner www.futurecapture.nyc

I am a professional digital capture technician and photo assistant with 12+ years of experience. Experienced in : Still Life, Beauty Fashion, Advertisement, E-Commerce, Editorial Photography. I am very confident about my skills as a photo assistant and digital capture technician. I can do both (sometimes at the same time)

I also own and operate a boutique digital capture company futurecapture, one of the official Phase One ® Rental Partners in New York City where I provide, and rent out Medium Format Hasselblad / Phase One Cameras, with Phase One Digital Backs as well as Mac Pro Work Stations. With futurecapture, I serve well-known clients including Garance Dore, CR Fashionbook, Vogue USA, Elle France, Elle Japan, WWD (Women'ss Wear Daily), Adweek, Variety, Magnum Photographers,
Sandbox Studios, and many more.

I have been honoured to be a guest lecturer at SVA School of Visual Arts BFA programme in 2016, 2017 and 2018 on Phase One Certified Professional Course.

My previous jobs include experience in technical support for picture quality in studios as well as on location. I believe that the combination of my experience and skills are well-suited to your needs. If you would like to discuss anything in my letter or CV (upon request) further, please feel free to contact me on the telephone number, or e-mail me at berk@futurecapture.com. Thank you for your consideration and time. I look forward to hearing from you.

Thank you for your consideration and time.

I look forward to hearing from you.
Phone +1(212)500-1165
Mobile +1(646)301-8770
Address 122 W 26th ST FL 5
Website www.futurecapture.nyc
Email berk@futurecapture.com
Please visit www.futurecapture.nyc

Referenzen als Assistent / Werdegang
PHOTOGRAPHERS
Stephen Lewis
Kutlu
Martien Mulder
Ben Pogue
Sandi Fellman
Rainer Hosch
Takay
Thierry Dreyfus
Brad Tuckman
Danilo Hess
Lyall Aston
Andrew Stinson
Frej Hedenberg
Serkan Sedele
Senol Altun
Candas Arin
Bahadir Tanriover
Emre Dogru
Timur Celikdag
Ahmet Tozar
Serdar Onal

ADVERTISING
Nike
Google
Mercedes
HSBC
Bosch
Ford
Nokia
Fiat
ING Bank
Protex
Palmolive
Colgate
Vodafone

EDITORIAL
GQ Australia
Lucky Magazine
Vogue Turkey
Vogue British
Harper's Bazaar Turkey
Madame Figaro
Trendsetter
Marie Claire
2de1

TECHNICAL
Profoto
Broncolor
Elinchrom
Hensel
Photoflex

Camera Formats
Hasselblad H4X
Phase One IQ250 Digital Back
Hasselblad 503 CW
Canon EOS 5D MKII
Canon EOS 1Ds MKIII
Mamiya RZ 67
Mamiya 645 AF

-Digital
Capture One
Leaf Capture
Flexcolor
Phocus
Photoshop


EMPLOYMENT

March 05 - December 06
SDL101 Visuals:
Digital Capture Operator Hasselblad H1D Body
Assisting Photographers Serkan Sedele, Senol Altun, Bahadir Tanriover, Candas Arin.
December 06 - June 08
Karanlik Isler Still Life Studio
Digital Capture Operator Leaf Capture
Assisting Photographer Ahmet Tozar
June 08 - Freelance Photography
August 09 - May 11 Candas Arin Photography


EDUCATION

September 99 - June 2004
Bachelor Of Arts Degree
Visual Communication Design
Istanbul Bilgi University

September 10 - December 10
10 Week Course
Photoshop CS5 - Imaging by Tracy Toler
Pratt Institute

September 10 - December 10
10 Week Course
Lighting For The Magazine Photographer by Ken Shung
School of Visual Arts
Portfolio
Fotoassi gesucht? Mail an alle:Biete einen Assi- oder Fotojob allen eingetragenen Fotoassistenten an!
Einfach, schnell und kostenlos:

Schnellsuche:Alle Fotoassistenten aus einer Stadt - ohne Suche mit einem Klick
Blog:Themen rund ums Assistieren und die Fotografie

Kann man eine Quittung bügeln? Zeit für den Eige..
Manchmal passieren die blödesten Sachen. Da will man einen guten […]
"Fototage" auf arte: Beiträge über O..
Derzeit gibt es wirklich sehenswerte Videos auf arte+7: Oliviero Toscani mit […]

David Maupile sucht einen festen Fotoassistenten i..
David Maupile sucht einen festen Fotoassistenten in Hamburg / Job […]

Die Jahresumfrage zur Fotoassistenz – Deine ..
Wie hoch sind derzeit die Tagessätze, wie viele Buchungstage im […]

Wie war eigentlich die Auftragslage für Fotoassis..
In den letzten Jahren hat sich die Auftragslage für Fotoassistenten […]

Harry Weber sucht Praktikant/Assistent (m/w) in Be..
Harry Weber Productions Ich suche ab sofort für mindestens 3 […]

Hubertus Hamm sucht festen Assistenten (m/w) für ..
Hubertus Hamm, München / sucht festen Assistenten (m/w) für die […]