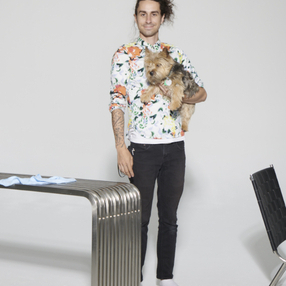 USA, New York City
Jahrgang:1987
Assistent seit:2011
Führerschein:PKW
Eigenes Auto:kein eigenes Auto verfügbar
Reisepass:vorhanden
Sprachen:Englisch
Fotoassistent, Digital Operator
Jonathan Pivovar
People, Portrait, Architektur, Mode, Beauty, Produktions Assi, Stilllife, Food, Landscape, Transportation
Know How:
Experienced in Large/Medium and 35mm format, developing, chemical mixing and printing.

Fluent in Photoshop, Capture One, Phase One, Phocus, Bridge and well versed in lightroom.

Understands and works with both Mac and PC; Nikon, Canon, and Hasselblad.

Calibrates monitors, printers, and
cameras.

Lighting and grip qualifications:

Works with all forms of stobes.

hot lights? fluent in most.

Medium level carpentry. I often fabricate for galleries, museums, and artists.

I work smart.
I'm funny, professional, and personable.
You should hire me.
Referenzen als Assistent / Werdegang
Degree in BFA/Commercial Photography from Columbia College Chicago.

Hi!

I work regularly in, and on, photo/video productions where I am the assistant to the photographer, primary/second-shooter, Digital tech, and lighting technician.
As well as the overall technical assistant to various freelance photographers in editorial, fashion and architecture, in and around the City of Chicago and NYC.

I have a drivers
license-- motorcycle too!
I can drive stick.
I don't smoke.
I have a great taste in music and beer and jokes.
I don't own a vehicle.
I have a valid Passport till 2025.
I will work whenever you need me to as long as I'm not already booked or have a date.
I assist part-time, the other half is working as a preparator.
Portfolio
Fotoassi gesucht? Mail an alle:Biete einen Assi- oder Fotojob allen eingetragenen Fotoassistenten an!
Einfach, schnell und kostenlos:

Schnellsuche:Alle Fotoassistenten aus einer Stadt - ohne Suche mit einem Klick
Blog:Themen rund ums Assistieren und die Fotografie
Fotopraktikum in Berlin zu vergeben / ab sofort (J..
Ich biete ab sofort einen Praktikumplatz im Bereich Fotografie in […]

Studio Ben Fuchs sucht einen Fotoassistenten / Pra..
Studio Ben Fuchs sucht einen neuen Assistenten/Praktikanten (Job ist vergeben) […]

Fester Assistent / Pratikant gesucht / Olaf Heine ..
Das Studio Olaf Heine sucht einen festen Assistenten/Praktikanten (m/w). (Der […]

Assistent/Studiomanager/-in ab Mai 2014 gesucht (J..
Job ist vergeben – Da mein fester Assistent weiterziehen möchte, […]

Fester Praktikant / Fotoassistent gesucht / Thomas..
Freude an der Fotografien und Freude mit Menschen Thomas Kierok […]
… der Gewinner des HyperJuice Nano ist…
Herzlichen Glückwunsch und viel Spaß mit dem Akku. Vielen Dank […]

Emir Haveric sucht einen festen Fotoassistenten (m..
Emir Haveric sucht einen festen Fotoassistenten (m/w) für 2 Jahre […]