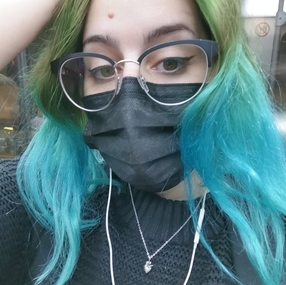 Großbritannien, London
Jahrgang:1991
Assistent seit:2014
Führerschein:kein Führerschein
Eigenes Auto:kein eigenes Auto verfügbar
Reisepass:vorhanden
Sprachen:Englisch, Spanisch
Fotoassistent, Digital Operator
Sara Gomez
People, Portrait, Mode, Beauty, Produktions Assi, Stilllife, Food, Auslandserfahrung
Know How:
My experience goes not only from being freelancer, but from having worked as Studio Manager & Studio Assistant for more than year and half in a photographic studio located in South London.

Cameras I'm familiar with:
- Full Frame DSLR (Sony, Canon, Nikon)
- Bridge and Devil cameras (sony a7s I, II)
- Cameras for film (TV cameras, Sony, Panasonic)
- Film cameras (analogic): 35mm, medium format, large format, 8mm, 16mm.


LIGHTS:
- Continuous lights for film and photography.
- Continuous light managed by desk.
- Flash
lights: Bowens, Profoto, Elinchrom... and its accessories.
- knowledge about electric systems (13 / 16 AMP lights, amperage, voltage maximum in sets etc)
- Trigger systems
- WiFi card

DIGITAL TECH:
- IT Mac and Windows
- Tethering: Wi Fi systems, Cable tethered systems
- Capture one
- Camera Raw
- Lightroom

RETOUCHER:

I'm also a published beauty, portrait and fashion retoucher, with 3 years of experience full time. Feel free to contact me if you require this services. My retouching work can be seen in my website.
Referenzen als Assistent / Werdegang
I'm a bilingual woman who has a degree in Lighting Design, Film & Photography, and Postproduction.
This means I'm able to set up any lighting you may need for your shooting, prepare your cameras and control the tether system.

I always carry my computer and cables to the shootings (MSI GS63VR 6RF, i7, pro graphic card) because you never know when something can fail.

I have a great attention to detail, and have lots of experience working on tight schedules and I'm also good at reading the photographer's needs, which fastens the work on set and location a lot.

My field experience goes from being intern, and then studio manager at Simulacra Studios, in Brixton (London) to do freelance work as assistant and Lighting design for fashion photographers such as Martin Schoeller, Niklas Haze, Kari Sveriss, or Jayden Fa.


I have European passport and I love to travel, so a shooting out of London won't scare me!
Jayden Fa, Fotoassistent, mehr als 1 Jahr
Kari Sveriss, Fotoassistent, mehr als 5 Jobs
Francois Boutemy, Fotoassistent, mehr als 1 Jahr
Jasmine De Silva, Fotoassistent, 1-5 Jobs
Niklas Haze, Fotoassistent, mehr als 1 Jahr
Martin Schoeller, Fotoassistent, 1-5 Jobs

Portfolio
Fotoassi gesucht? Mail an alle:Biete einen Assi- oder Fotojob allen eingetragenen Fotoassistenten an!
Einfach, schnell und kostenlos:

Schnellsuche:Alle Fotoassistenten aus einer Stadt - ohne Suche mit einem Klick
Blog:Themen rund ums Assistieren und die Fotografie

08.03. Vernissage von alongside – neue Schul..
Es ist wieder mal soweit und die Abschlussklasse von Eva […]

Die große Jahresumfrage unter den Fotoassistenten..
Auch in diesem Jahr gibt es wieder die große Umfrage […]

Harry Weber sucht einen festen Praktikanten / Foto..
Harry Weber sucht einen festen Praktikanten / Assistenten in Berlin […]
Fotoassi gesucht: Jobangebote auf fotoassistent.de
Neben der Möglichkeit, einen Fotoassi direkt zu kontaktieren, bieten wir […]

Jahrespraktikum bei Tim Thiel in Frankfurt
Das Studio Tim Thiel in Frankfurt am Main sucht […]

Wolfram Schroll sucht Fotoassistenten/-in / NRW (J..
Fotoassistent für gelegentliche Jobs gesucht: (Job ist vergeben) Ich bin: […]

Fotografischer Assistent / Praktikant (m/w) für k..
khujo ist ein erfolgreiches und weiter expandierendes Urban Fashion Brand, […]