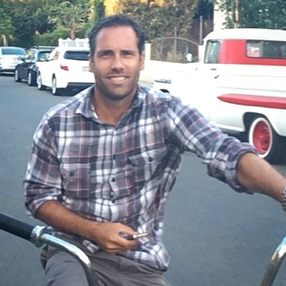 USA, Los Angeles
Jahrgang:1974
Assistent seit:2006
Führerschein:PKW
Eigenes Auto:eigenes Auto verfügbar
Reisepass:vorhanden
Sprachen:Englisch
Digital Operator
Mark Epstein
People, Portrait, Architektur, Location Scout, Mode, Beauty, Landscape
Know How:
I am a Phase One-Certified Professional Digital Tech and photo retoucher based in Los Angeles, California. For over 10 years, I've partnered with commercial, fashion, and lifestyle photographers as well as joined forces with prominent companies such as Nordstrom, AT&T, Microsoft, Nintendo, GoPro, Red Bull, and Canon. Combining my knowledge of photography with Capture One and Photoshop skills, I always ensure
the best possible image output. I am accustomed to supporting high-end clients on a variety of jobs with the experience and efficiency needed to get any job done.

Working at Nordstom Studio N as the lead digital technician, on-figure retoucher, I was integral in developing digital capture workflow and streamlining photo retouching techniques. Additionally, I served as a part-time studio photographer.
Referenzen als Assistent / Werdegang
• Phase One Certified Professional: Contract digital capture technician for studio and location photographers providing expert knowledge of digital photography and photo shoot workflow. Deep experience with all major digital backs, cameras and high-end DSLR cameras. Ensure images are color balanced and exposed to match client specifications.

• High-end Photo Retoucher: Digitally retouch images for print and web using Photoshop and other retouching software for high-end fashion, beauty, and lifestyle brands and clients. Compose complex image compositing using layers and adjustments in Photoshop. Color correct images for print and web using Capture One, Lightroom, and Photoshop. Providing retouching for Urban Decay Cosmetics, Red Bull, GoPro, and 100s of other clients.

• Photo Editor: Talented photo editor with extensive experience in print, web and event industries. Self-directed multi-tasker who knows what makes a powerful lasting image that tells a unique story.
Bob Stevens, Digital Operator, mehr als 5 Jobs
, Digital Operator
, Digital Operator

Portfolio
Fotoassi gesucht? Mail an alle:Biete einen Assi- oder Fotojob allen eingetragenen Fotoassistenten an!
Einfach, schnell und kostenlos:

Schnellsuche:Alle Fotoassistenten aus einer Stadt - ohne Suche mit einem Klick
Blog:Themen rund ums Assistieren und die Fotografie

Katapult 2011 – Nachwuchspreis für die R..
Fotowettbewerbe gibt es wie Sand am Meer und die meisten […]

Steffen Jänicke sucht festen Fotoassistenten in B..
Ich suche zu/ab November einen neuen, festen Assistenten (m/w) in […]

Anne Servos sucht eine freie Fotoassistentin im Ra..
Hallo, ich bin Hochzeitsfotografin und auf der Suche nach einer […]

Fotografischer Assistent / Praktikant (m/w) für k..
khujo ist ein erfolgreiches und weiter expandierendes Urban Fashion Brand, […]
Praktikum für Fotografie & Retouching in Hamburg
Praktikum für Fotografie & Retouching in Hamburg. Für Fotografie, Retouching und […]

Wie viele Auftraggeber hattest Du 2013? Ein erstes..
Seit einem Monat ist unsere Umfrage unter allen Fotoassistenten online […]
Fotojobs auf der Seite – Angebote an die Fot..
Neben der Möglichkeit, einen Assistenten direkt zu kontaktieren, bieten wir […]