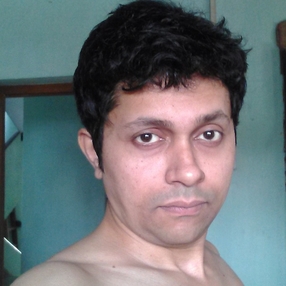 Indien, -
Jahrgang:1981
Assistent seit:2008
Führerschein:kein Führerschein
Eigenes Auto:kein eigenes Auto verfügbar
Reisepass:vorhanden
Sprachen:Englisch, Französisch
Fotoassistent, Digital Operator
Indrajit
People, Portrait, Architektur, Mode, Beauty, Reportage, Produktions Assi, Stilllife, Food
Know How:
I'm a self learned visual storyteller and photography happened to me by chance, to forget the blues of traditional unemployment.
Someone 'gifted' me a broken pocket compact digital camera that I repaired myself and start capturing the happenings in and around my surroundings.
After all these years, working within strictest of limitations, borrowing everything from gears to online connections, I found it blessing in disguise as I could do well with the tenets of photography, responding to only chances and instincts.
The two virtues helped me to evolve myself to capture the inter-connection of life and non life elements of nature.
Of late, the current mainstream format, electronic, is showing up some well discussed limitations to me, plus my beliefs in metaphysics also hints, the traditional chemical medium is second to
none to represent worldly creations.
Although film photography was the only medium when I lay my hands on camera many moons ago, but when I decided to be serious about photography, it has vanished from the scene.
At present, I wish to continue working with simplicity of film format, so I can focus on my work best, but I need some basic introduction to different stages of film format, e.g. develop and print.
For this reason, I am looking to learn hands on practice being an apprentice to a seasoned photographer and writing this to you.
I've no choice at now, but being at the creative capital of world and progressing is an automatic choice.
I've included my online portfolio built over for last nine years, mostly done around my native city.
Referenzen als Assistent / Werdegang
I also worked with two american professional photographers during their projects in my city. One is listed below.
Portfolio
Fotoassi gesucht? Mail an alle:Biete einen Assi- oder Fotojob allen eingetragenen Fotoassistenten an!
Einfach, schnell und kostenlos:

Schnellsuche:Alle Fotoassistenten aus einer Stadt - ohne Suche mit einem Klick
Blog:
Themen rund ums Assistieren und die Fotografie

Michael Schnabel sucht Assistent/Studiomanager/-in..
Da mein fester Assistent weiterzieht suche ich einen Nachfolger/-in. (Job ist […]

Die große Jahresumfrage unter den Fotoassistenten..
Auch in diesem Jahr gibt es wieder die große Umfrage […]

Brauche ich als Fotoassistent eine Versicherung?
Oft hört man von anderen Fotoassistenten zum Thema Versicherung: "Das […]

Olaf Heine sucht festen Fotoassistenten (m/w) in B..
Das Studio Olaf Heine sucht einen festen Fotoassistenten/Praktikanten (m/w). Bist […]

Hubertus Hamm sucht festen Assistenten (m/w) für ..
Hubertus Hamm, München / sucht festen Assistenten (m/w) für die […]

Das Fotostudio Thiel in Frankfurt am Main sucht ab..
Tim Thiels Shootings finden teilweise im Studio, aber auch on […]

Spiegel TV Reportage über Peter Lindbergh
Peter Lindbergh gehört zweifelsohne zu den bekanntesten und berühmtesten lebenden […]