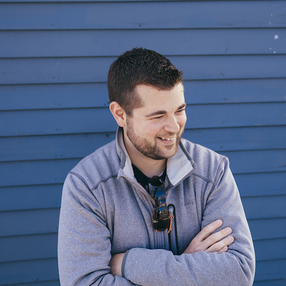 USA, Boston
Jahrgang:1982
Assistent seit:2013
Führerschein:PKW
Eigenes Auto:eigenes Auto verfügbar
Reisepass:nicht vorhanden
Sprachen:Englisch
Fotoassistent
Joe Ferraro
People, Portrait, Architektur, Mode, Beauty, Reportage, Stilllife, Food, Landscape, Transportation
Know How:
I joined the freelance market in 2013, after leaving an internal, corporate, photo job. I started assisting in Boston for well known food photographers and that grew into work with other photographers, ranging from specialties in Architectural, Editorial Portrait, Still Life/Product, Fashion, and Lifestyle photography. Since 2013, I've assisted over two dozen photographers from the Greater Boston area, and photographers working on-location in New England from NYC. I've also travelled with my photographers to as far West as California and as far south as Florida.

My greatest skillset is my lighting ability. Nowadays a lot of faith is placed in me to light a scene without too much direction from the photographer. I do prefer to discuss all decisions before I start moving lights around, and am always amendable to a change in direction or style as dictated by the photographer. At the end of the day, a
successful shoot should leave the photographer feeling like "everything was clicking" between everyone involved in production. I see my job as to make things as simple and painless as possible, for everyone.

I'm familiar with all major camera systems, and newer mirrorless players. I'm always equipped to tech as needed, within while tethering to Capture One, Lightroom, or over a wifi device.

I'm always open to new challenges and exciting work, but I also understand that some shoots are routine and not too flashy, so I'm comfortable in every situation - from "hurry-up and wait"-shoots to a steady flow of shots packed into one day - or several days.

I'm a dog person, a (mostly) vegetarian - I eat fish occasionally, I always eat lunch (food is fuel for the body and mind), and if there's an Adirondack chair set next to a lake or mountain, you'll find me there.
Referenzen als Assistent / Werdegang
As a freelance assistant, mostly lighting and some tech'ing, I've worked for:

Jim Scherer, Miller Mobley, Paul Saraceno, Michael Indresano, Michael Partenio, Greg Premru, Bob O'Connor, Adam Detour, Michael Piazza, Richard Howard, Bill Truslow, Gary Sloan, Kristin Teig, Heather McGrath, Tony Gale, Alex Jones, Steve Bevacqua, Sadie Dayton, John Benford, Dallas Raleigh, Chris Sanders, Ned Jackson, Chris Garrison, Joel Laino, Susan Seubert, Kristada Panichgul, Zach Zavislak,
and Steve Marsel.

I'm a graduate of the New England School of Photography (c.2006) and Lesley University's (then) Art Institute of Boston (c.2013).

I used to work as a medical photographer, in-house, for Mass General Hospital.

I'm currently listed on Wonderful Machine, and although I'm pushing toward making a lot of my own work, I will still consider assisting assignments where there are gaps in my schedule.
Portfolio
Fotoassi gesucht? Mail an alle:Biete einen Assi- oder Fotojob allen eingetragenen Fotoassistenten an!
Einfach, schnell und kostenlos:

Schnellsuche:Alle Fotoassistenten aus einer Stadt - ohne Suche mit einem Klick
Blog:
Themen rund ums Assistieren und die Fotografie

Jahrespraktikum bei Tim Thiel in Frankfurt
Das Studio Tim Thiel in Frankfurt am Main sucht […]
Fotojob gesucht? Fotoassistenz-Angebote im Septemb..
Neben der Möglichkeit, einen Assistenten direkt zu kontaktieren, bieten wir […]

Christoph Siegert sucht einen festen Fotoassistent..
Wir suchen ab sofort eine/n engagierte/n und selbstständige/n AssistentIn (fest) […]

Emir Haveric sucht neuen festen Fotoassistenten in..
Emir Haveric sucht neuen festen Assistenten (m/w) Du bist 20-30 […]
"Fototage" auf arte: Beiträge über O..
Derzeit gibt es wirklich sehenswerte Videos auf arte+7: Oliviero Toscani mit […]
angebotene Fotojobs im Juli
Neben der Möglichkeit, einen Assistenten direkt zu kontaktieren, bieten wir […]

Oliver Mark sucht festen Praktikanten in Berlin (J..
Oliver Mark Studio Berlin sucht einen festen Praktikanten (m/w) ab […]