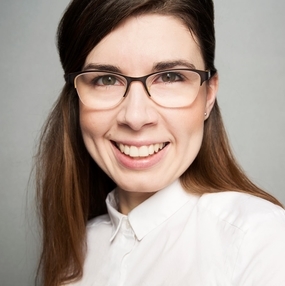 Großbritannien, London
Assistent seit:2015
Führerschein:kein Führerschein
Eigenes Auto:kein eigenes Auto verfügbar
Reisepass:vorhanden
Sprachen:Englisch
Fotoassistent, Digital Operator
Lucia
People, Portrait, Architektur, Mode, Beauty, Stilllife, Food
Know How:
Hi there, my name is Lucia and I am an emerging photographer learning as an assistant.

I am really excited about getting involved and helping things run smoothly and safely. Always willing to learn and embrace
a challenge. Not eager to check the phone every five minutes whilst on the set and I can make a good cuppa too.
_____________________________


" Mind on, mobile off " attitude whilst on the set.
_____________________________

Three years studio and location lighting experience.

Confident to use Bowens, Elinchrom, Profoto, speedlight and tungsten lights.

Experienced with DSLRs cameras mostly Canon and Nikon cameras, 35mm, medium format Hasselblad and PhaseONE.

Proficient with Mac and PC.
_____________________________

I am here to make your job easier and looking forward to discuss your next project soon.

Referenzen als Assistent / Werdegang
I graduated in 2014 and in the future I intent to assist other photographers while shooting my own personal work.
My main passion lies in Still Life Photography.

With an eye for detail,colour and shape I create thought-provoking images. These images are precise and effortlessly light at first glance, but deal with serious issues.

Aleksandra Kingo - still life photography

Brent Darby - still life / interior photography

Colin Campbell - food photography

Dan Duchars - interior / lifestyle photography

Dan Matthews
- food / still life photography

David Churchill - superyacht / interior photography

Felicity McCabe - portrait / still life photography

Gareth Morgans - food photography

John Bennet - still life photography

Kevin Summers - food photography

Kristy Noble - still life / interior photography

Louisa Parry - still life photography

Michael Sinclair - interior / lifestyle photography

Peer Lindgreen - interiors / still life photography

Rachel Whiting - interiors photography

Rosie Blake - fashion photography

Sarah Hogan - still life / interior photography

Only paid jobs please.
Many thanks.
Portfolio
Fotoassi gesucht? Mail an alle:Biete einen Assi- oder Fotojob allen eingetragenen Fotoassistenten an!
Einfach, schnell und kostenlos:

Schnellsuche:Alle Fotoassistenten aus einer Stadt - ohne Suche mit einem Klick
Blog:Themen rund ums Assistieren und die Fotografie

Super Idee: throwable panoramic ball camera
Gute Neuigkeiten aus Berlin: Ein Ball, 36 Linsen und ein […]

Retoucher/in – Post-Operator/in von Mark Seelen ..
Als international tätiger Fotograf in den Bereichen Lifestyle, Interior und […]

Christoph Siegert sucht Fotoassistenten (m/w) in H..
Wir suchen ein Organisationstalent w/m für tägliche Studioaufgaben, Foto Shootings […]

Harry Weber sucht Praktikant/Assistent (m/w) in Be..
Harry Weber Productions Ich suche ab sofort für mindestens 3 […]
"Ausfallhonorar – da gibt's doch..
Gelegentlich kommt es vor, dass ein Fotojob in letzter Minute […]

Wolfram Schroll sucht Fotoassistenten/-in / NRW (J..
Fotoassistent für gelegentliche Jobs gesucht: (Job ist vergeben) Ich bin: […]

Mappe oder Kontakte – was ist wichtiger, wen..
Solange man als Fotoassistent arbeitet, ist die eigene Mappe ziemlich […]